The AR15 is one of the most versatile rifles out there. There may be better rifles from a technical standpoint, but for versatility and usefulness, the AR15-type rifle is hard to beat. There are so many variations, third party upgrades and parts, and a while plethora of replacement parts available.
We here at eguns.com have been using the AR15 ourselves for quite a while. We have rebuilt and reconfigured our rifles endlessly. The following upgrade kit, which we onw offer, is the culmination of our efforts. After taking a couple of tactical rifle classes from Jim Crews at Marksman's Enterprise and one from John Farnam, shooting with the NH TAG guys at the NFGA, etc. I decided that for the non-operator type, ie, the common man, a light, compact, and handy rifle was the best all around rifle to own. It can be carried in our truck, easily schlepped around in the woods, the range, in the desert, in the fields, etc. and used for fun, defence of family, or for many other working uses.
The concept is to have a rifle that is handy to use. Not heavy and bulky with every contraption attached to it. It should be light, compact, and reliable. It should have features that lead to good technique, encourage practice, and make shooting fun. I believe this upgrade kit will turn your rifle into just such a thing.
The "Ultimate Handy Rifle" has a main version, and a few variants, based on different mounts, rear sights, and stocks.
According to Jim Crews, your rifle should have a stock of A1 stock length. After seeing his demonstration in class, I have ot heartily agree. The A2 stock is too long. Try this test: Get in a normal handgun stance (weaver stance). Have someone remove your handgun, without your moving, and hand you a rifle. With an A2 stock, 99% of you will take a step backwards. With an A1 length stock, you don't. You keep the same stance. This is good for muscle memory and training. Our Handy Rifle kit includes a stock that approximates the A1 length.
The rifle needs to be ultra reliable and safe. We have incorporated things like the D-Fender ring on the ejector, the McFarland one-piece gas ring, a lightweight titanium firing pin, and other features that lead to reliability and safety.
A "red' dot reflex type sight is the fastest way to get on target. And if you wear glasses, it is almost a must since firing from the prone position with glasses is difficult for many people, as the light passes through the glasses at a different angle and you end up low or high though it appears to be right on. (I had this problem and Jim Crews skillfully diagnosed the problem and got me set up correctly). Backup Iron Sights are a must in case your reflex sight is damaged or fails. Co-witnessing with reflex sight with the iron sights is the best configuration. We use the best reflex sight, the Aimpoint Comp ML2 or M2, and GG&G rear flip up sights with a Bushmaster (or alternately a GG&G) front flip up sight as backup iron sights.
I'll stop talking now and show you a picture: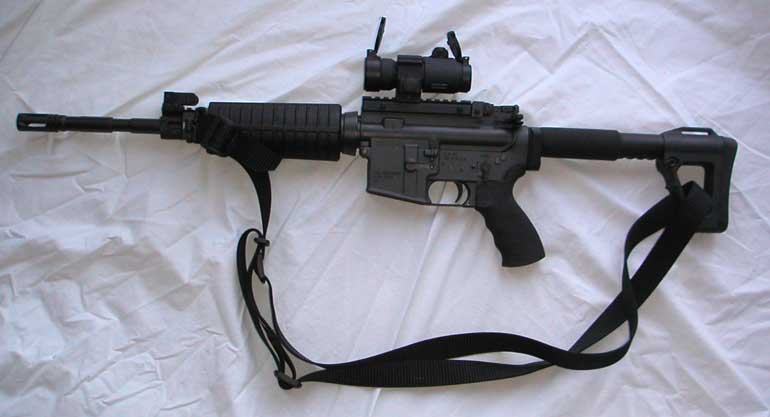 The kit includes everything shown above (and listed below) except the lower receiver (and lower internal parts). We use a Bushmaster 14.5" standard M4 barrel with permanently attached "Phantom" 5-slot flash suppressor bringing the whole barrel to a slight amount longer than the 16" minimum, front gas blocks and flip up sight, M4 handguards, buffer springs and buffers (and tubes in some cases), bolt and bolt carriers, and charging handle. A standard A3/M4 style flat-top upper receiver with ejection port cover and forward assist s the basis. We add a GG&G front Sling Thing, a GG&G MAD Rear Flip-Up sight, GG&G aimpoint Ring and GG&G FIRE Rail system. An ACE M4 SOCOM collapsible stock (good and tight -- feels like a fixed stock), a Falcon Ergo Grip "Sure Grip" Ambi Grip, a Badger Ordnance "Tac Latch" tactcal latch on the charging handle, a Trijicon "night sight" front sight post, a titanium firing pin, a D-Fender D-ring on the ejector, a McFarland one pice gas ring, anti-walk pins for trigger and hammer, an Aimpoint Comp M2 or ML2 "red dot" reflex sight, and a The Wilderness Giles Tactical Sling finishes it off. We also use the durable DuraCoat firearms finish on the whole upper, in Colt Gray or Matte Black (other colors available).
In this configuration the cost for the kit, including Aimpoint and everything else mentioned above (and probably some things I have forgotten), including full asembly (as much as possible), and DuraCoat finish in Colt Gray or Matte Black (the above shows Colt Gray on the upper and barrel), is $1837.00 . (We figure the cost by adding up the street prices for all the individual pieces, and adding $75 for assembly and $50 for the DuraCoat and finishing labor -- You can't do this yourself cheaper). Click here for a full price list including options. (The price may change as are suppliers change their prices, but the price on the website that is current when you place your order is the valid price) (Requires a $200 non-refundable deposit and all upgrade kts are custom assembled for their buyer and so shpiment is 1-4 weeks after order is placed).
Here are some more pictures including some with different Aimpoint mounts.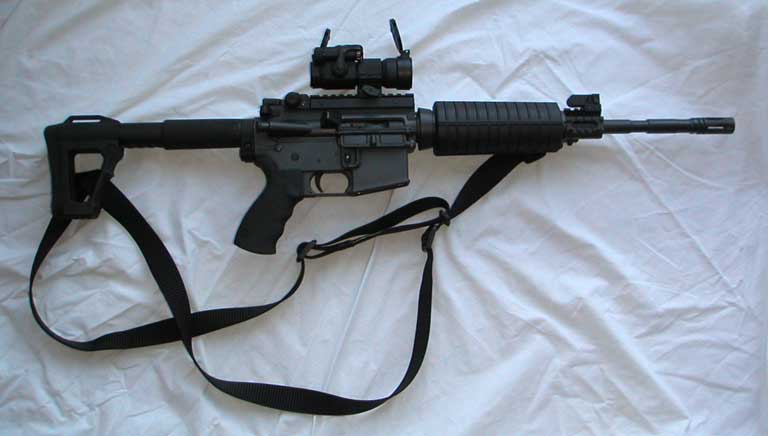 Shows the standard Handy Rifle with GG&G Aimpoint Ring and rear GG&G MAD sight.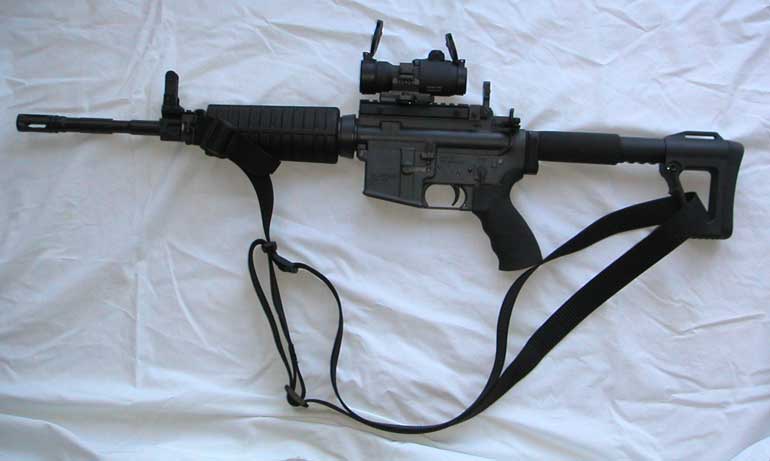 Shows the Handy Rifle with the A.R.M.S. Throw ever Ring Aimpoint mount. This variant costs $70 less. This next picture shows the same A.R.M.S. mount variant from the other side: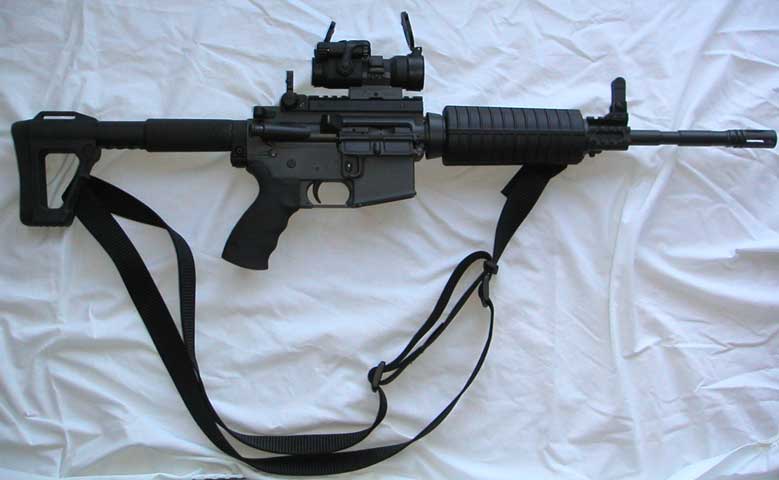 Here is the Handy Rifle using the standard Genuine Aimpoint QRP quick release mount for the Aimpoint, and the GG&G A2 rear flip up sights instead of the MAD sights. This variant is $95 less.